Functional Medicine
Functional Medicine is a refreshing approach to healthcare for those working in conventional and natural health industries. It is increasing in popularity in the UK as the general public are being exposed to the possibilities of taking control and improving their health.
Functional Medicine is the way that medicine, in general, will need to go with the escalation of chronic diseases, diabetes, autoimmune disorders, rises in chronic, debilitating pain conditions, along with growing complaints of lethargy and as our aging population increases.
The conventional medicine approach is perfect for acute or emergency medical problems, e.g. car accident, heart attack. However, the approach of conventual medicine for poor life style choices resulting in chronic problems is to wait until these conditions have already onset and then deal with the symptoms of those complaints. This leaves society with an escalating health bill that can't be sustained long-term.
Many of these conditions can be stopped before they express themselves by improving a patient's lifestyle choices. We are here to support and steer you in a healthy direction whether you already have a chronic illness or are looking at improving your general health and wellbeing.
What is Functional Medicine?
Functional Medicine is truly a patient centered approach to health care. We want our patients to be not just disease free but full of vitally. Our approach to achieve this is to listen to you, the patient. We will work together with you looking at your lifestyle and environment to uncover the problem areas.
Functional Medicine is where the practitioner and patient work together to discover the route causes of a problem. Many of our current health problems are because our genetics and biology haven't had a chance to catch up with our drastically altered, modern lifestyle and diet.
We give you a plan of action to put in place to create the desired outcome – health and vitality.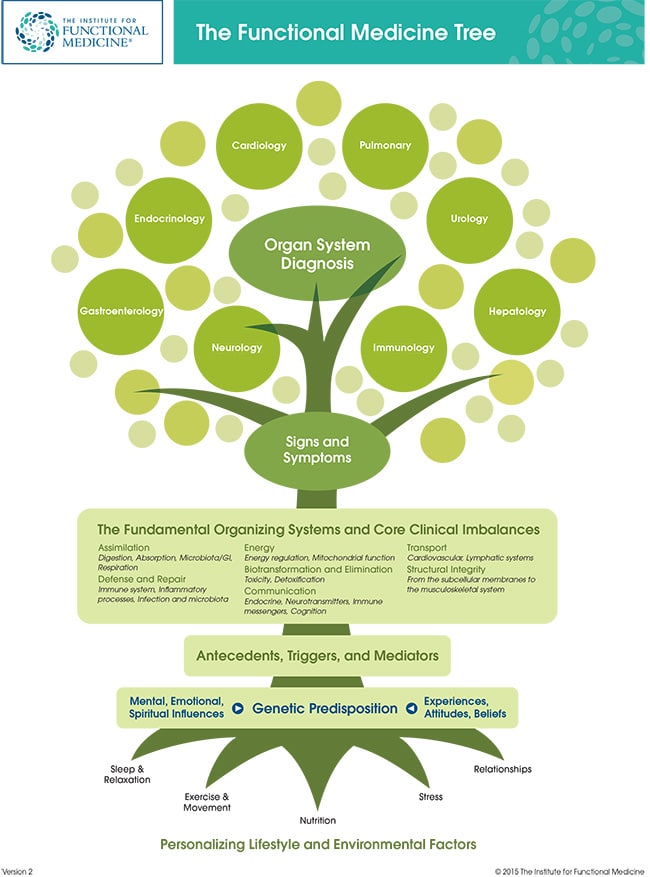 What to expect?
Prior to your initial consultation, you will be sent health questionnaires to be completed. We request that this is done at least 2 days before your 1st appointment allowing Anne French MSc, Chiropractic to focus fully on you on your first visit with her.
Your initial consultation will usually take 1 hour. Taking a full health history, will help reveal the onset of your individual health complaints. Further blood or stool test's may be suggested.
We will investigate:
your diet/hydration habits
possible nutritional deficiencies/food intolerances
sleep patterns
relaxation & stress relationship
movement & exercise routines
emotional support in situ
The results from this visit will be a personalised health plan, uniquely for you, that you can put into action.
Follow up appointments and times will vary depending if there were further investigations required and the treatment plan suggested.
Start restoring your health, today!